Instruments
We have a large selection of newly made instruments from such countries as Germany, China, the Czech Republic, Romania and Italy. Some are made in factories and others are hand made. Our collection of vintage instruments range from the Baroque Period on and are from such countries as France, Germany, Russia, England, Czechoslovakia, Italy and America. Our inventory is extensive and includes selections in various price ranges, up to $20,000. Whenever possible, we hand pick our instruments.
Bows
We stock a select variety of bows in price ranges up to $5000. Our wood selections include Brazilwood, pernambuco and snakewood. Frogs include models made of ebony, horn, snakewood, and tortoise shell. Some bows are sterling silver or gold mounted. We buy new bows from France, Germany, China and South America. We also have an assortment of vintage bows from France and Germany.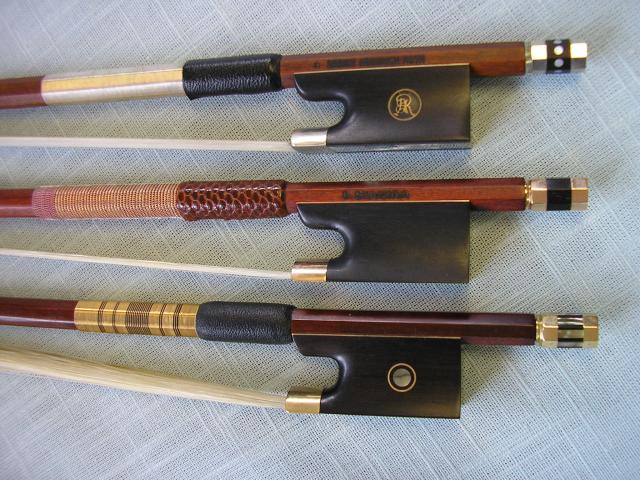 Cases
We have a good selection of shaped and oblong violin and viola cases, with a variety of features. We carry everything from economical student models to professional level Musafia cases made in Italy. We also offer hard shell and padded cello cases.
Books
We stock a variety of method books, a full line of Suzuki string books, music theory books, books of classical, popular and religious music, a wide selection of fiddle music, wedding music and arrangements for small ensembles.
Strings
We carry a full line of strings for the student and professional. Our string prices are competitive with mail order sources.
Shoulder Rests
We stock Kun, Viva la Musica, Muco, Artino, Everest, Playonair, Bonmusica, Wolfe and Mach One Models.
Gift Items
We offer a good selection of music theme jewelry (including sterling silver), miniature violins and cellos, name tags, key chains, T Shirts, sweatshirts and many other items with music motifs.
Learning Aides
We carry a variety of music stands and carrying bags, metronomes, tuners and flash cards.
Other
We have an assortment of rosins, chinrests, rock stops, humidifiers, mutes and fittings.